News and Events
STEMI INDIA: Annual International Meeting 3 - 4 September 2022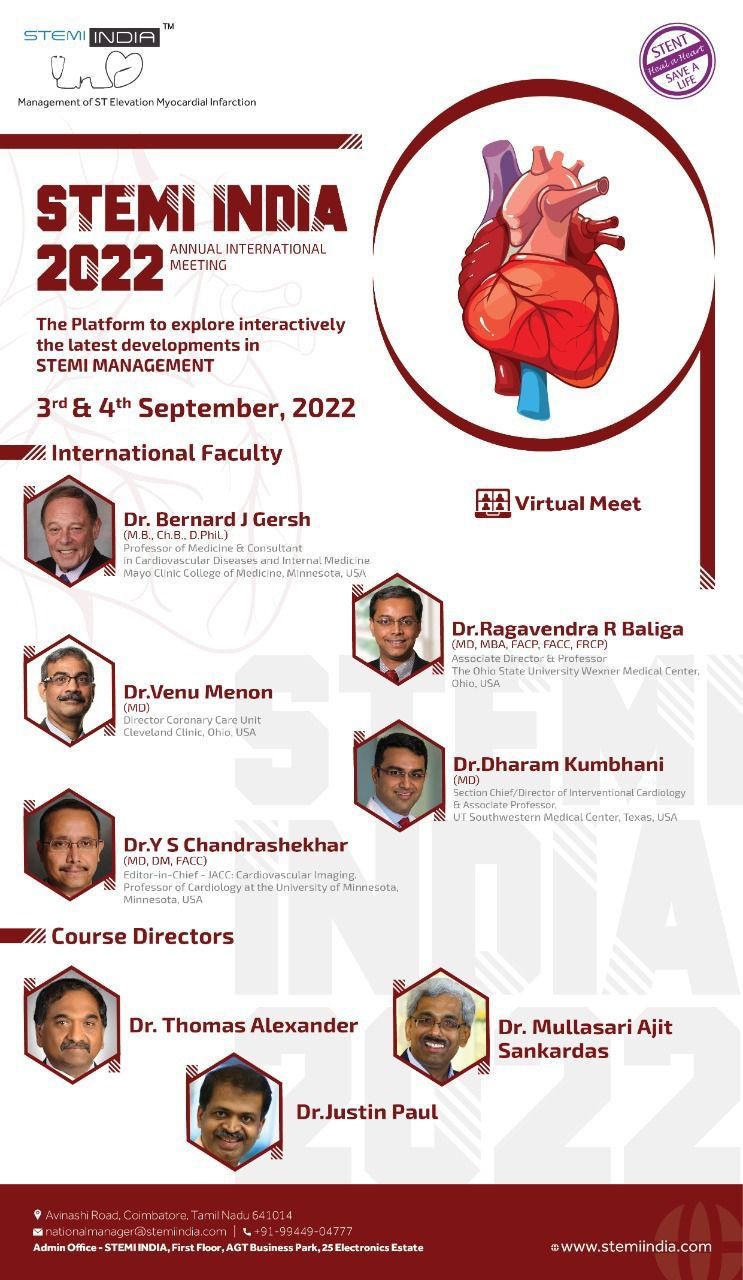 STEMI INDIA 2020 Lectures Now Available

Dear STEMI Member
You may now access full lectures presented during STEMI 2020
STEMI SA Education Material
STEMI SA Education Videos
STEMI SA News 2019 SAHJ Volume 16
Please click here to download the pdf.
STEMI SA Meeting, 31 October 2019
SA Heart SASCI STEMI Seminar, Charlotte Maxeke Johannesburg Academic Hospital, 28 March 2017 at 08:00 - 11:00
The meeting was held at Charlotte Maxeke Johannesburg Academic Hospital, John Barlow Room, Area 555 (Blue Block, 5th floor), Division of Cardiology on 28 March 2017 at 08:00
The meeting was well attended. Emergence departments from 6 hopsitals that refer to Charlotte Maxeke Johannesbuerg Academic Hospital & Lebone Gauteng Emergency Management Services attended the meeting.
Prof. Pravin Manga & Dr. Ahmed Vachiat and their cardiology colleagues facilitated the session with excellence and addressed the following:
1. The role of EMS
2. The benefits of early intervention to improve STEMI patients outcome
3. STEMI case studies
4. ECG interpretation
5. Challenges that ED doctors have at their respective hospitals
6. The importance of data capturing
7. Networking
The delegates were pleased with this initiative and plagued their commitment to be part of the follow up meetings.
Dr. Ahmed Vachiat is planning a follow up meeting with a representative from referring hospitals in May 2017 to form a hub & spoke task team.
We would like to thank Boehringer-Ingelheim for supporting this initiative
---
AfricaPCR 2017: Challenging STEMI Cases from Africa
---
---
STEMI India Congress 2016
STEMI SA Delegation (as per photo)
"George Nel, Prof Rhena Delport, Prof Naresh Ranjith, Dr Nicholas Mangeya, Mark Savary and Dr Adriaan Snyders (STEMI SA National Champion)"
"Our gracious host from STEMI India Dr Thomas Alexander, flanked by Prof Ranjith and Dr Adriaan Snyders"
---
---
Stent for Life (SFL) Forum - Prague
The Stent for Life Initiative aims to improve the delivery of care and patient access to the life saving indications of primary percutaneous coronary intervention (p-PCI), thereby reducing mortality and morbidity in patients suffering from acute coronary syndromes (ACS).
Prof Rhena Delport officially signed the declaration making SA Heart an affiliate Member of Europe SFL. She shared our strategic plans and experience with other ESC Affiliated countries
---
---
---
---
---
Stent for Life Managers Meeting, 25 February 2016 at Lindner Hotel, Prague Castle - Summary
---
SAHJ autumn 2015 newsletter (pg. 1)
---
SAHJ autumn 2015 newsletter (pg. 2)
---
---
---